Mudjacking Denver
Why We Are #1 in Colorado:
Our customers trust us: Read testimonials from happy, satisfied mudjacking customers. See Trouble Shooter Tom Martino's Referral List, Google, Yelp, BBB and Angie's List.
Customer Service: when you leave a message for an estimate or a concern you may have, your call will be returned that same day.
We are never cut corners in a rush to complete your project, or in taking time with clean up.
The specialized equipment invented by AAA ensures you get the best quality possible in the concrete raising industry.
The owner, who has over 25 years' experience, will visit you personally, give you an estimate, and then do the work himself.
AAA Concrete Raising Co. may not be the least expensive bid you receive, but you can know you are getting the best mudjacking and concrete raising services in Colorado.
"Bigger is Better"
There's an excellent reason AAA Concrete Raising Company has the largest mudjacking rig in town. It gives us peace of mind knowing we will always have enough material available to do every job right. Exceptional quality for our customers is our company's focus.
Pride, Trust, Workmanship, Experience (over 25 years), In House Invented Equipment, Integrity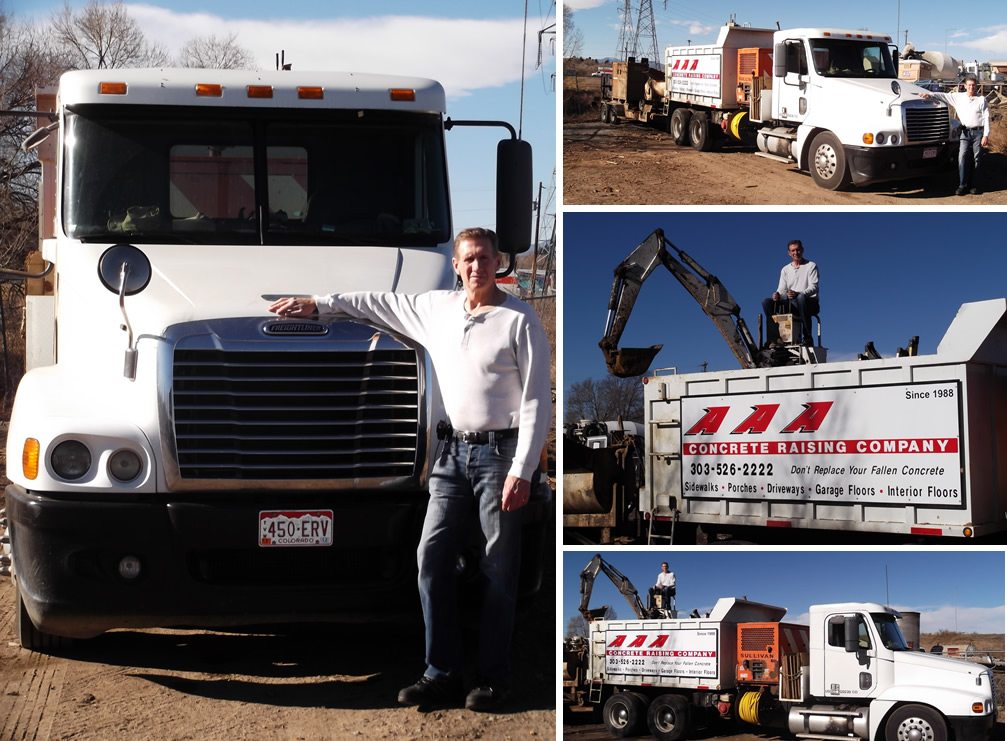 Established in 1988, AAA Concrete Raising Company brings the "monster" truck of the industry to every job. It carries about ten yards of materials (sandy loam soil), about two times more than our competitors. So we'll always have enough materials on hand to get the job done thoroughly.
We've installed a backhoe to eliminate the need to hand shovel. No other concrete  company provides this technology and you don't have to worry about the truck damaging your property in any way; it remains in the street at all times.
An experienced mudjacking contractor knows how important it is to pump the proper thickness of mud slurry. Often, the thickness is changed several times when raising a slab correctly. AAA has a portable pump that is designed for mudjacking. With our shorter pump hose, we can change the thickness of our slurry much faster and more efficiently. Others are stuck with a lot of material in a long hose that could be the wrong thickness. Pumping the wrong thickness of slurry often leaves cavities under the slab and could even break the slab during concrete leveling.
We offer specialized, state of the art equipment that we have personally developed.
How mudjacking works – Video
Customer Testimonial

September 25, 2015
AAA Concrete Raising is as good as it gets for fixing sinking patios! I had a severely sinking patio/stairs in my backyard where it was actually getting dangerous just to step outside due to the drastic drop. I contracted with a polyurethane company to inject foam and thereby lift the concrete slabs. Big Mistake!! If only I had read Howard's website, I could have saved myself so much aggravation. The company I hired to do the foam injecting, drilled into the concrete but never hit dirt. They proceeded on to try to fill in the void under the concrete but wound up using over their limit on a single job and it still did not lift the concrete. The boss came on to the scene a week later and said he couldn't complete the job due to too much foam usage. So they just walked away. I had to find a reputable company that would take on someone else's work. I called Howard and explained what happened. He was very kind and said he would look at it for me. Thank God he decided to give it a try and fix it. He was very honest and I felt so relieved. His expertise and knowledge not only impressed me but it got the job done. He was able to lift it at least 7 inches and it looks beautiful. Howard is a pleasure to work with and goes above and beyond what is required. I would highly recommend AAA Concrete Raising to anyone in need of these services. This customer had a POSITIVE experience with this business. This customer WOULD recommend the business to a friend, family member, neighbor or colleague.

by Lynne T. on Sep. 25, 2015

– See more at: https://www.bbb.org/denver/business-reviews/mud-jacking-contractors/aaa-concrete-raising-in-arvada-co-1062/customer-reviews?cacheit=y#sthash.XwhdZxi2.dpuf
Before & After
Before & After