What do the experts say about raising concrete with polyurethane foam?
Pride, Trust, Workmanship, Experience (32 years), In House Invented Equipment, Integrity
Why We Are #1 in Colorado: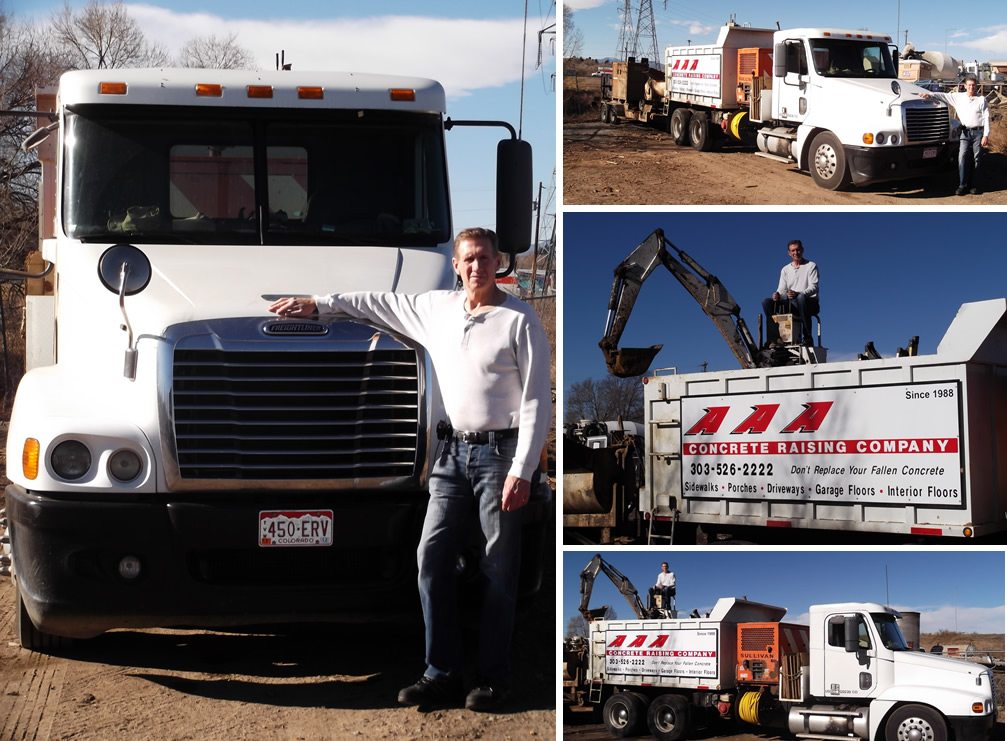 Never Worry – AAA will never use Poly Foam – and we do drive the largest truck in the business to ensure we can fill all of the voids necessary to level your concrete!
Family-owned and operated since 1988, AAA Concrete Raising Company brings the "monster" truck of the industry to every job. It carries about ten yards of materials (sandy loam soil), about two times more than our competitors. So we'll always have enough materials on hand to get the job done thoroughly.
We've installed a backhoe to eliminate the need to hand shovel. No other concrete company provides this technology and you don't have to worry about the truck damaging your property in any way; it remains on the street at all times.
An experienced mudjacking contractor knows how important it is to pump the proper thickness of mud slurry. Often, the thickness is changed several times when raising a slab correctly. AAA has a portable pump that is designed for mudjacking. With our shorter pump hose, we can change the thickness of our slurry much faster and more efficiently. Others are stuck with a lot of material in a long hose that could be the wrong thickness. Pumping the wrong thickness of slurry often leaves cavities under the slab and could even break the slab during concrete leveling.
We offer specialized, state of the art equipment that we have personally developed.
Our Customers Say
AAA Concrete Raising is as good as it gets for fixing sinking patios! I had a severely sinking patio/stairs in my backyard where it was actually getting dangerous just to step outside due to the drastic drop. I contracted with a polyurethane company to inject foam and thereby lift the concrete slabs. Big Mistake!!
I thought I was faced with having to completely remove and replace the concrete floor, which would involve removing some interior walls. Then I called Howard and he came out and told me he could fix it. The cost was very reasonable and he and his crew came out exactly at the time he promised. They did a fantastic job! I highly recommend AAA Concrete Raising Company. I was totally satisfied!
Despite being one of the toughest, most utilized construction materials in existence, concrete doesn't always come without issues. This is especially the case with concrete patios, which can become uneven overtime. An uneven concrete patio
Concrete is widely viewed as a durable and long-lasting building material, but even it is subject to wear and tear. Whether it's a crack that goes from bad to worse, settlement or erosion issues underneath
A void under a concrete slab is a dangerous scenario that needs to be resolved as soon as its presence is known. Failing to do so may result in structural failure of the slab and
How Mudjacking Works – Video
Frequently Asked Questions
Concrete Leveling and Mudjacking Denver